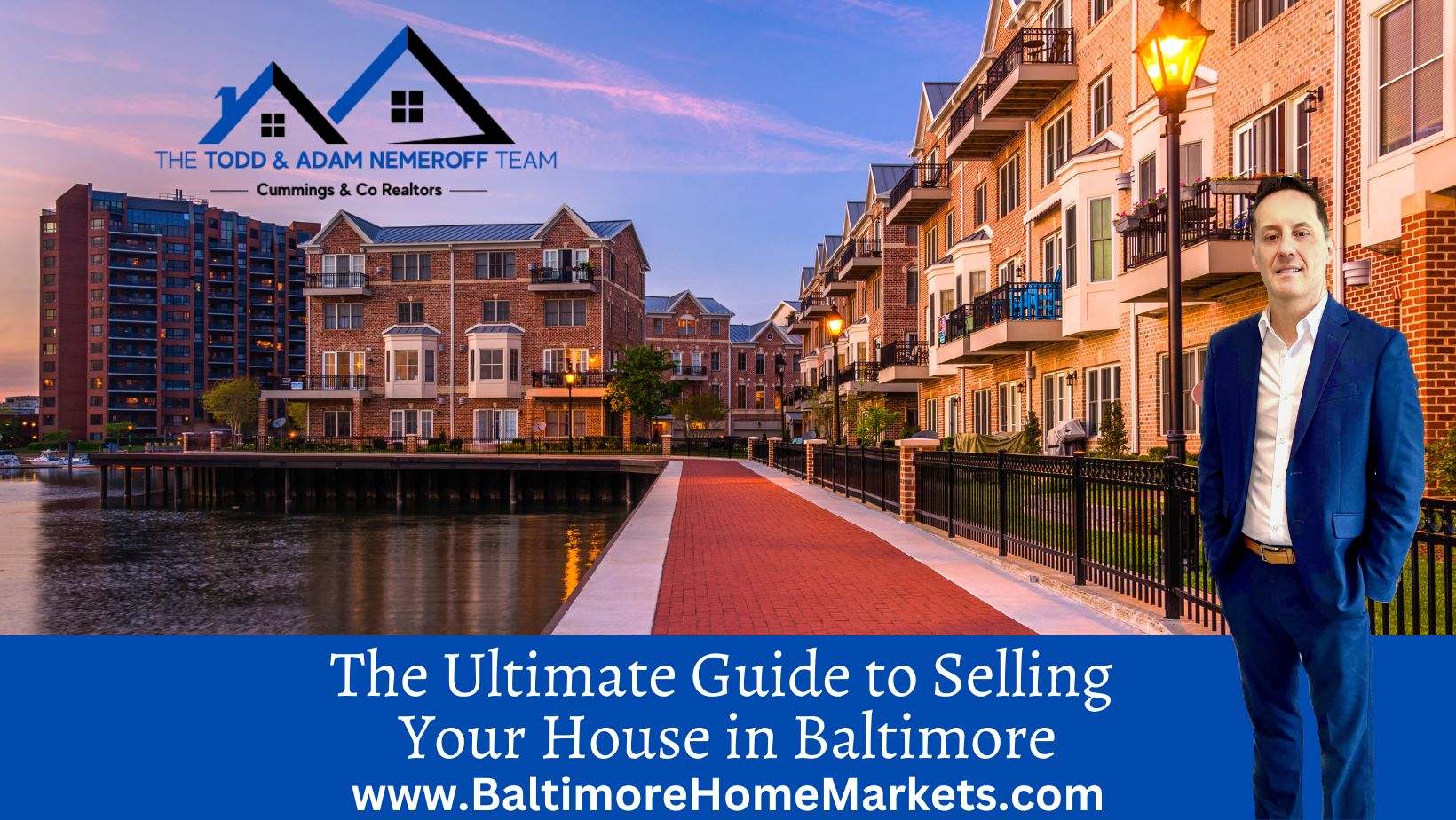 The Ultimate Guide to Selling Your House in baltimore
Title: The Ultimate Guide to Selling Your House in Baltimore
Introduction:
Selling a house can be a complex and challenging process, but with the right preparation and strategy, you can navigate the market successfully. If you're looking to sell your house in Baltimore's Canton, Fells Point, Federal Hill, Harbor East, Locust Point, Timonium Lutherville, Owings Mills, Pikesville, Towson neighborhoods it's crucial to understand the steps involved and how to maximize your chances of a successful sale. In this comprehensive guide, we'll walk you through the key aspects of preparing your house for sale and attracting potential buyers.
I. Getting Your House Prepared to Sell
1. Adjust to a Seller's Mindset:
Before diving into the selling process, it's important to adjust your mindset and detach emotionally from the property. This mindset shift will allow you to make objective decisions and negotiate effectively.
2. Find the Best-Qualified Listing Agent: Todd Nemeroff Realtor®

Partnering with Todd Nemeroff Realtor who knows the Baltimore market inside out is essential. We will provide valuable insights, handle the marketing, and guide you through the selling process.
3. Estimate Your Selling Price:
Determining an appropriate selling price is crucial for attracting potential buyers. Conduct a thorough market analysis, considering factors like comparable sales and current market trends, to arrive at a competitive and realistic selling price.
4. Optimize Your Home's Space:
To make your house appealing to potential buyers, optimize its space. Start by decluttering and depersonalizing, creating a clean and neutral environment that allows buyers to envision themselves living there. Maximize natural light, rearrange furniture, and consider professional staging to showcase the property's potential.
5. Get a Home Inspection:
Conducting a pre-listing home inspection is highly recommended. This step allows you to identify any issues that could potentially hinder the sale process. Addressing these problems beforehand will give you confidence and save time during negotiations.
6. Make Repairs and Upgrades That Pay Off:
Addressing necessary repairs and making strategic upgrades can significantly enhance your house's value and appeal. Focus on key areas such as the kitchen, bathrooms, and curb appeal. Consider cost-effective renovations that yield a high return on investment.
7. Stage Your Home for the Right Buyer:
Home staging is an art that can make a significant impact on potential buyers. Create an inviting atmosphere by arranging furniture, adding tasteful decor, and enhancing curb appeal. Tailor the staging to appeal to the target demographic of buyers in Baltimore Canton.
8. Market Your Home The Right Way

Having an effective marketing strategy upfront will get the most views on
your home in the shortest amount of time. A market-expert real estate agent
can do this for you, ensuring your home is seen, shown, and sold.
Todd Nemeroff-.Realtor® makes sure we markets your home through these essential methods:

OVER 19 YEARS EXPERIENCE IN THE BALTIMORE MARKET SELLING HOUSES & CONDOS!

Google



Buyers & Sellers List

Single property websites

Sign riders with text code

Short-form videos

YouTube videos

Matterport 3D Virtual Tours

Schematic Floor Plans

Social media on Facebook, Instagram & Tic Tok

Email marketing

Direct mail

Many homeowners underestimate the amount of marketing that goes into

selling. and in a changing market, this step takes priority!



Conclusion:
Preparing your house for sale in Baltimore requires careful planning and execution. By adopting a seller's mindset, working with a qualified listing agent, setting the right price, optimizing your home's space, conducting a home inspection, making strategic repairs and upgrades, and staging your home effectively, you can attract potential buyers and increase your chances of a successful sale. Remember, selling a house is a collaborative effort between you, your listing agent, and potential buyers. Start the process today and maximize the value of your Baltimore, Lutherville Timonium, Owings Mills, Towson, Pikesville, Canton, Fells Point, Federal Hill, Harbor East, Locust Point, Brewers Hill, properties.